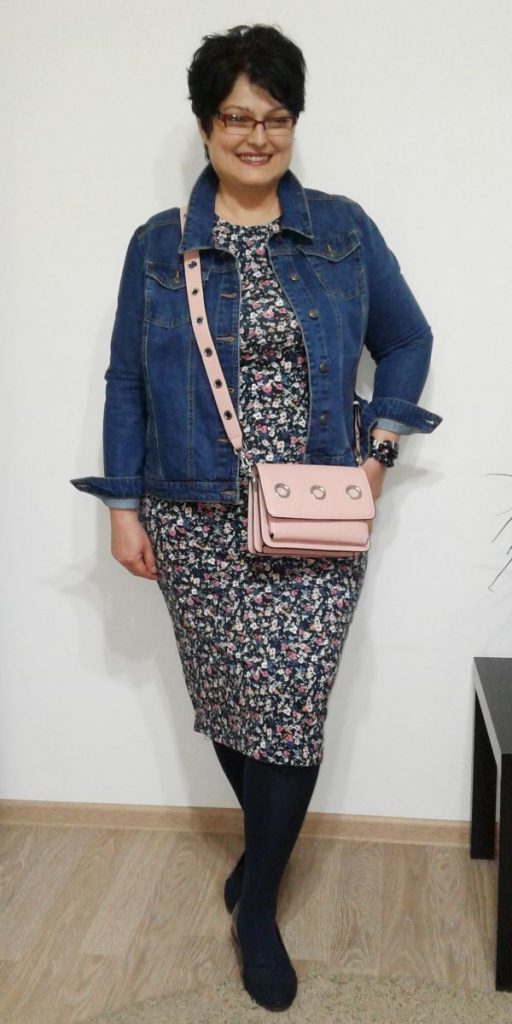 Since I have a pear body shape I am blessed to have a rather thin waist… compared to the rest 🙂
However, if I turn and look in the mirror from the side…there she is, my unwanted tummy.
Over the years, I read a lot of advice on many blogs about how to hide the tummy and tried all of them.
Some are plain common sense, like "Don't wear low cut jeans or pants". Doh!
Of course I wear medium to high rise pants, I don't want to have my belly jumping up and down above the belt!
Others, I simply found not true, like "Don't ever wear belts" or "Don't tuck in the shirt".
Anyway, here are my favorite tricks for hiding my tummy, which I discovered by my own trial and error process.
I wear slimming underwear whenever is necessary
I put on slimming underwear when I wear light elastic fabrics, like jersey, viscose or silk. That is every time I wear jersey dresses, pants or skirts, or light summer dresses. I know, I know it seems very hard to wear slimming underwear in summer, but I prefer this way than to have my body jingling around in the sun 🙂
Of course, I don't wear slimming when I'm dressed in jeans or more rigid pants that keep things together.
My favorites are the slimming shorts with long legs, which also prevent the thighs from rubbing against each other. I also have several panties with high waists that cover and slim both the tummy and the waist.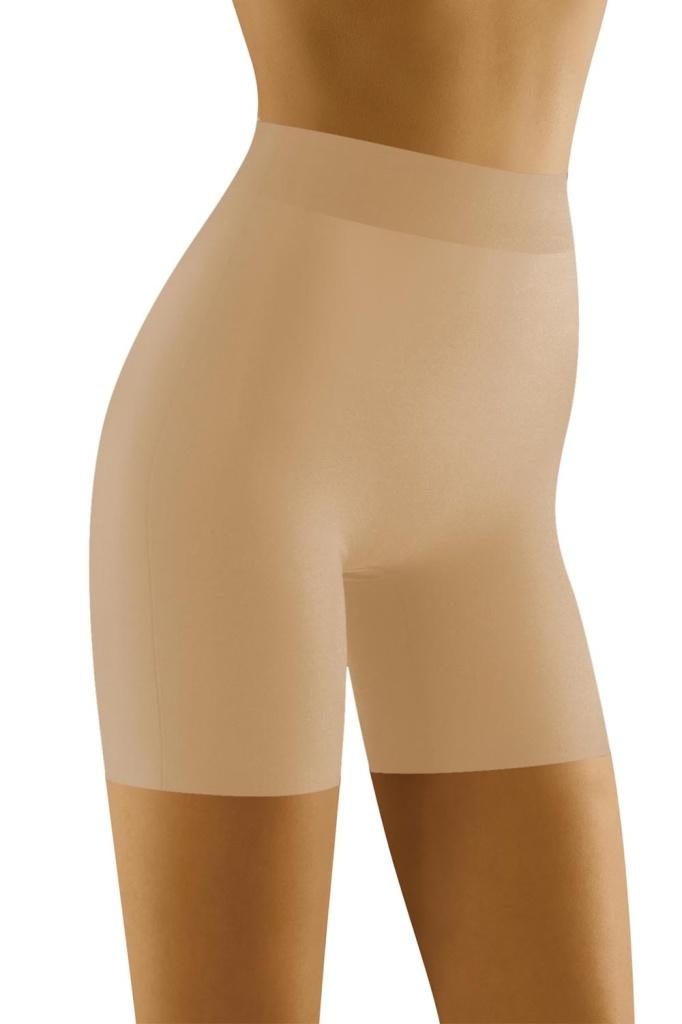 I wear belts
At first I wore belts on my jeans and pants because I needed them for support. Because of my wide hips I must buy jeans and pants in bigger sizes, so they are always large on my waist. Since in those days I've always worn blouses and shirts over my pants, I had just one black plain leather belt that I was using all the time, only for keeping my pants from falling.
Recently, inspired by Beth from www.styleatacertainage.com, I started tucking in my tees and shirts and wearing a matching belt. It was a big surprise for me so see how the whole outfit gets more stylish when I wear a belt.
It was another big surprise to find how much better I looked with a tucked shirt and a belt, much thinner and classier.
What does the belt do for me (beside support, of course)? It marks my waist. Since I'm lucky enough to have a waist, why would I hide it?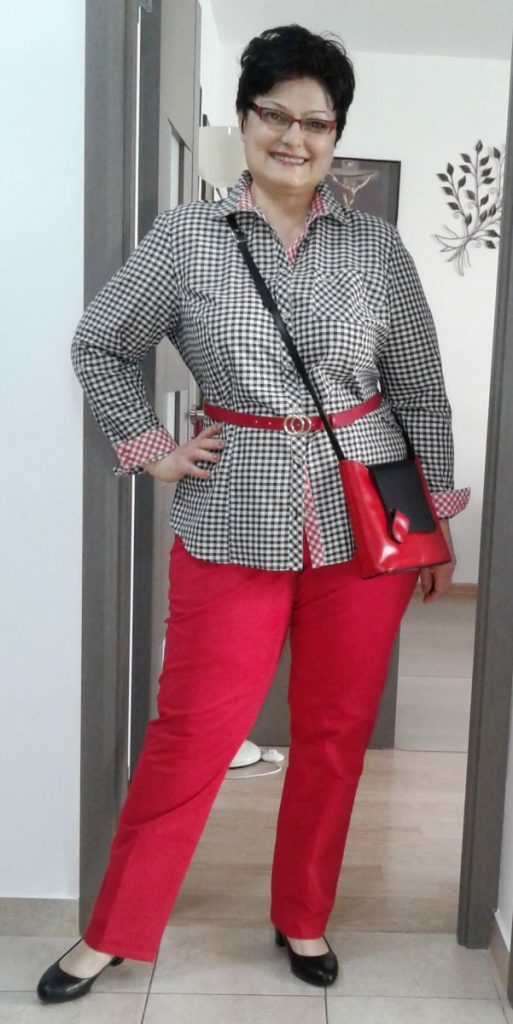 Yes, I also have a tummy below the waist, but the belt deceives the look and directs it to the thinnest part of my body. Which is good 🙂
I wear tucked tops with open shirts
Sometimes I also tuck the shirt, like in the picture below. More often, I wear a tee or camisole tucked in and the shirt over the pants.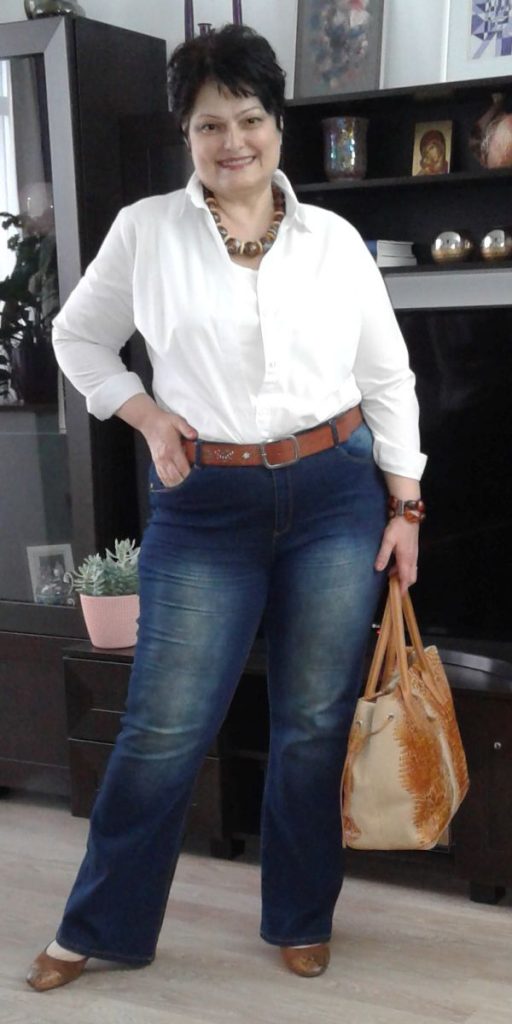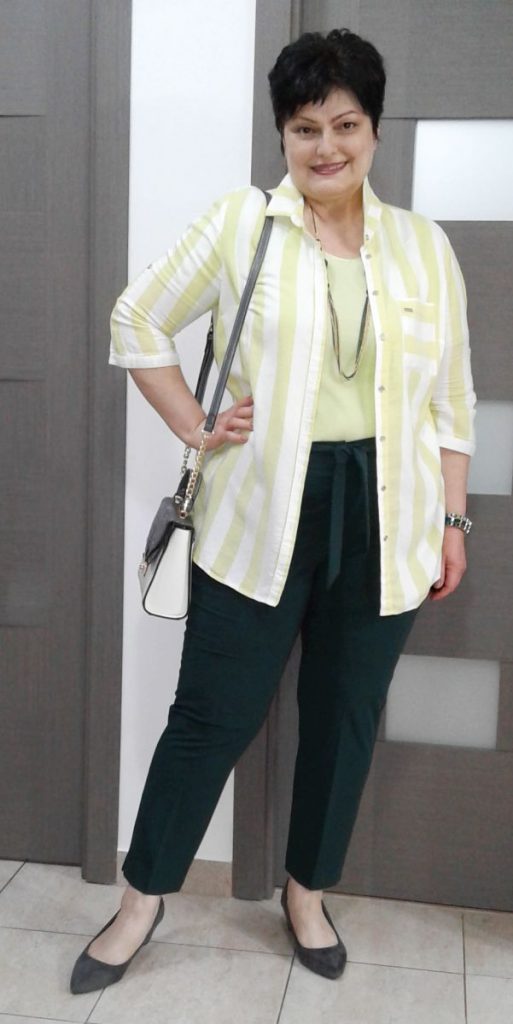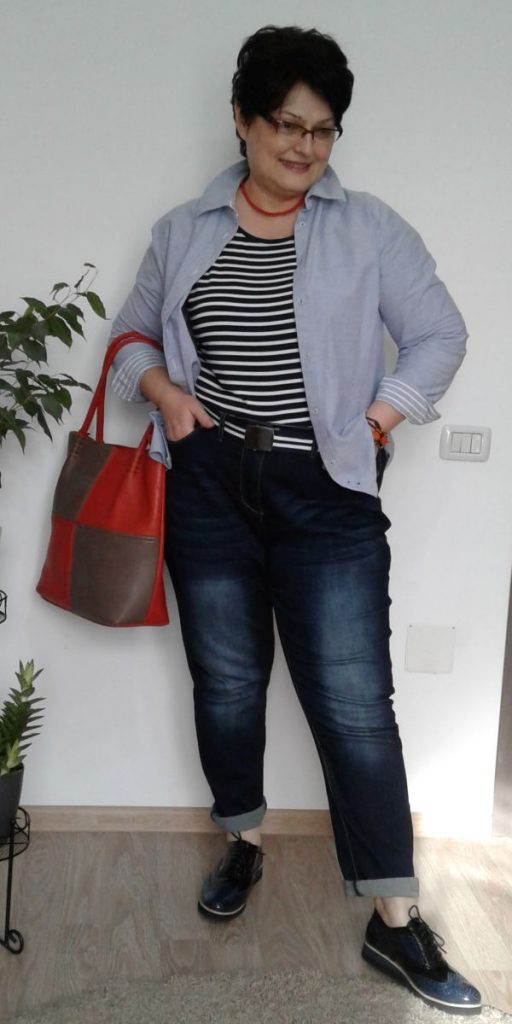 My waist is marked by a contrasting or a matching belt, while my tummy is hidden in plain sight, either by the flowing shirt or by the thinner waist which diverts the look from the belly.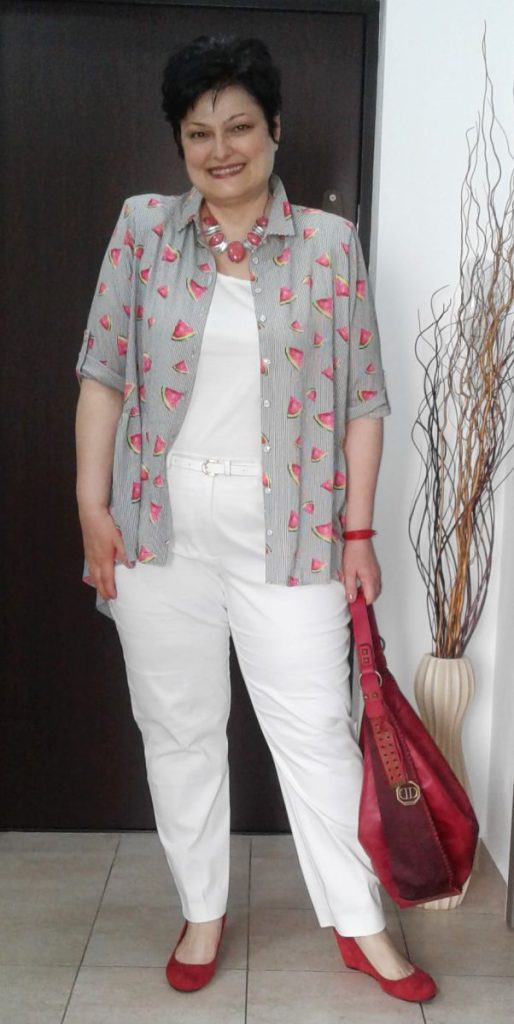 I wear open blazers and jackets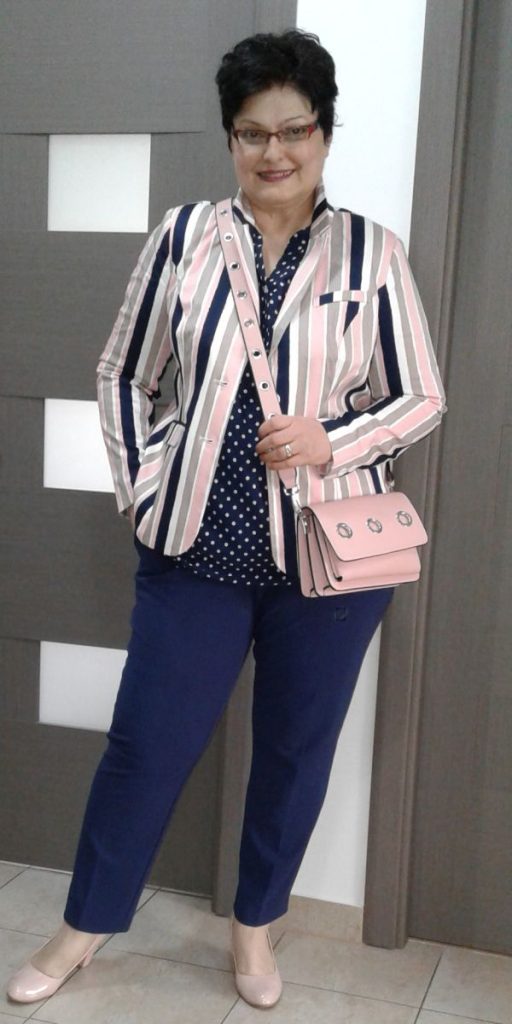 Blazers and jackets worn open have the same diverting effect, plus they look very casual and trendy.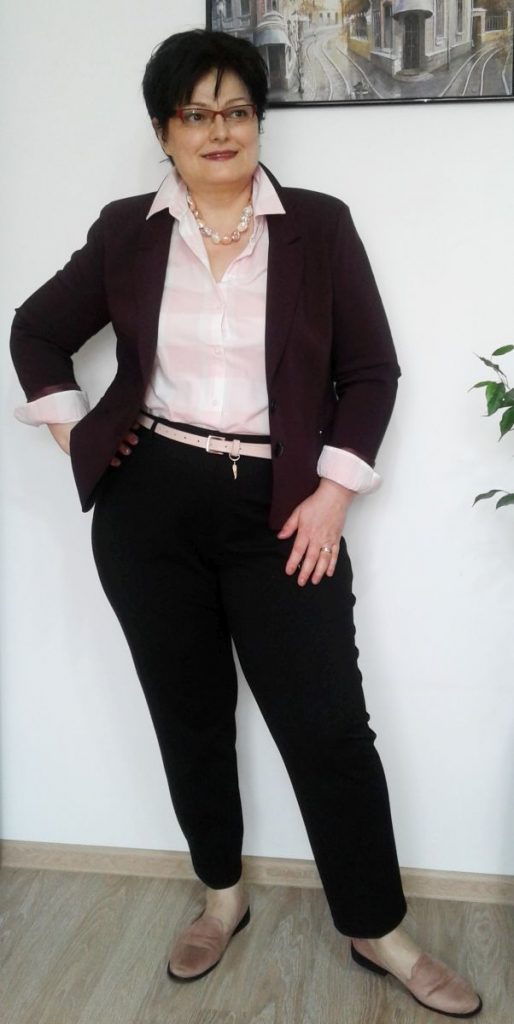 I love tailored blazers and denim jackets that end above the hip bones, just long enough to hide the belly.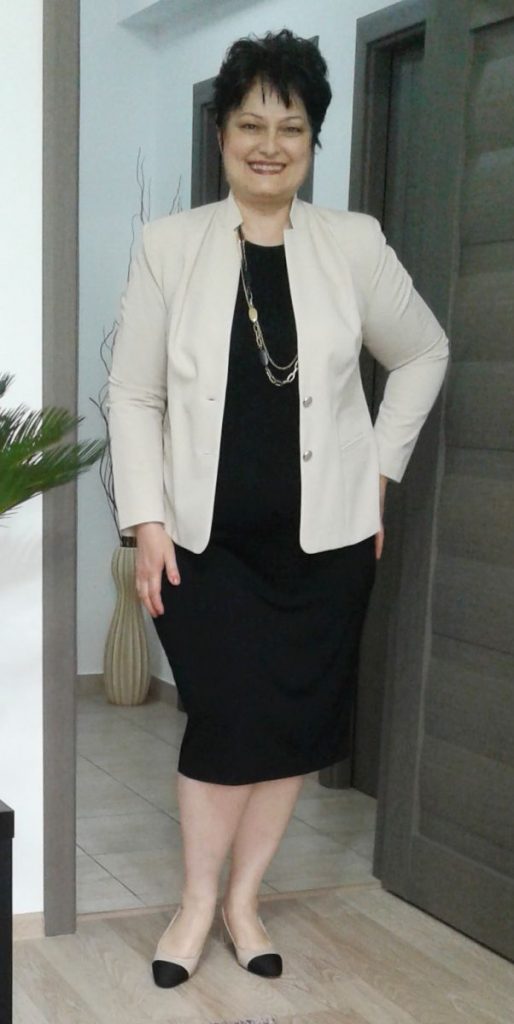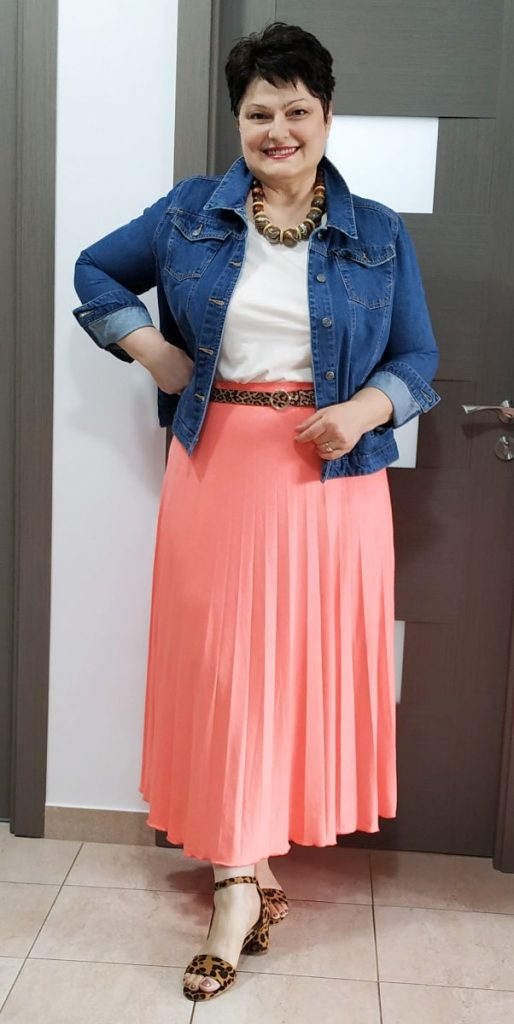 However, although oversized blazers (which remind me of the 90's) are on trend again, I don't wear them. They might seem suited for a big girl since they cover the hips and bottom, but they're not. Having that rectangular cut and not being tailored on the waist, they make me look like a giant walking closet.
I wear scarves
I love scarves.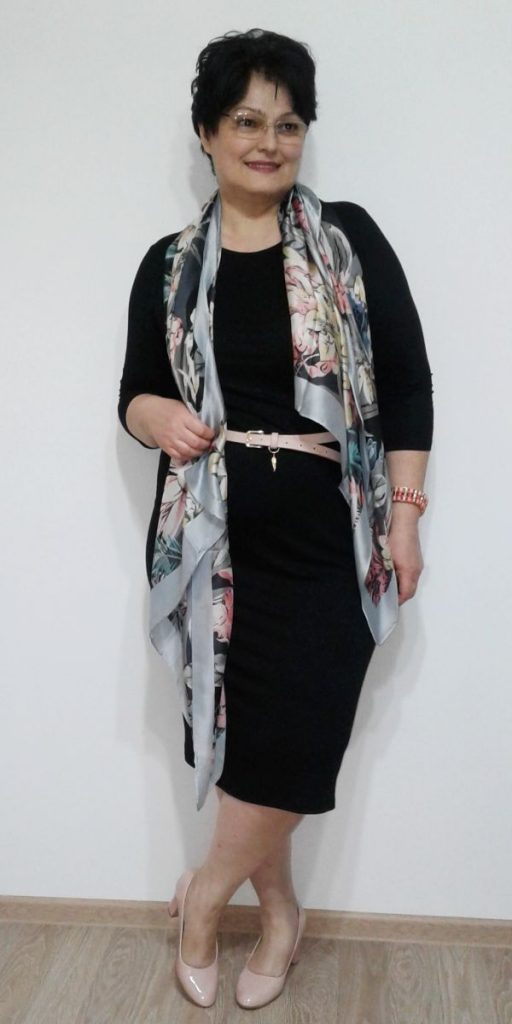 They are so stylish and versatile, adding a touch of class to any outfit.
I wear light scarves in the summer, for keeping warm in cool evenings and I wear thick colorful scarves in the winter, sometimes only to add a drop of color to my outfit.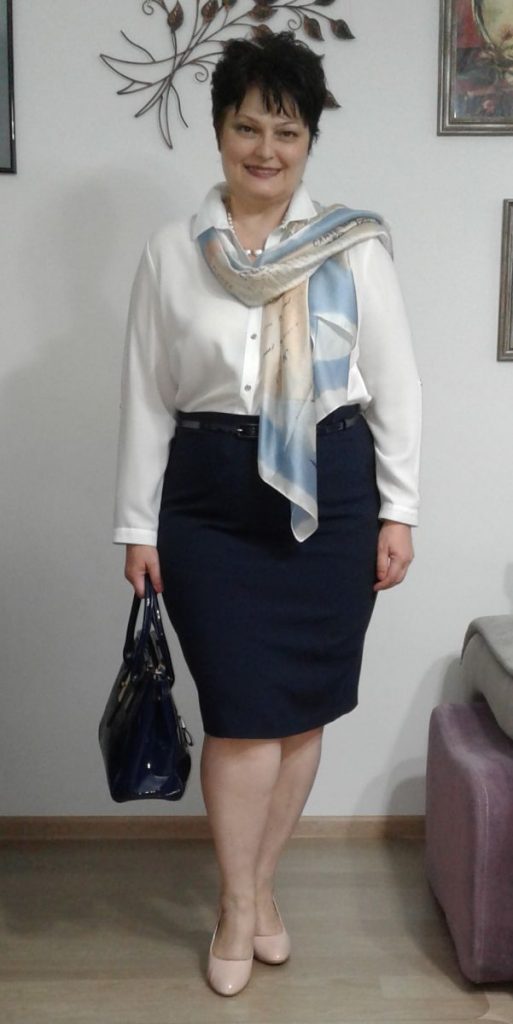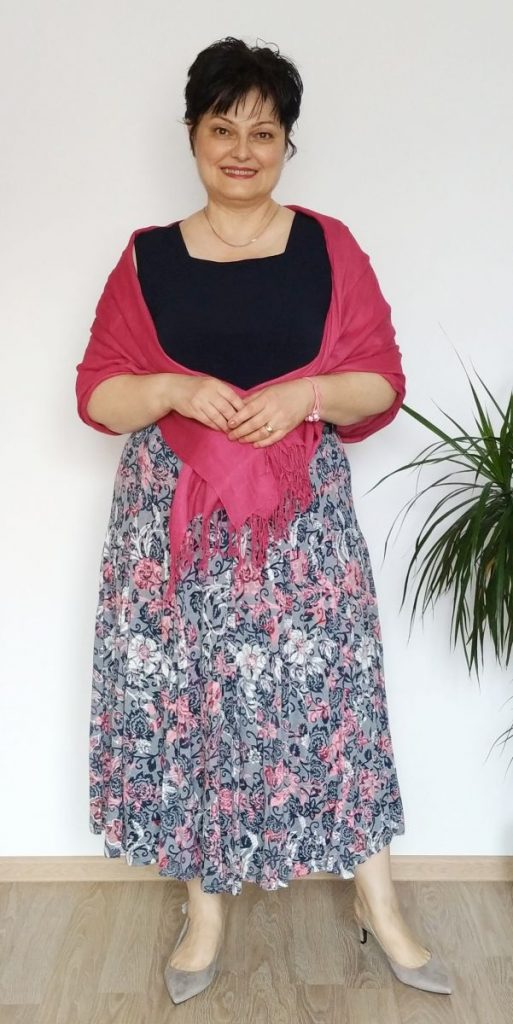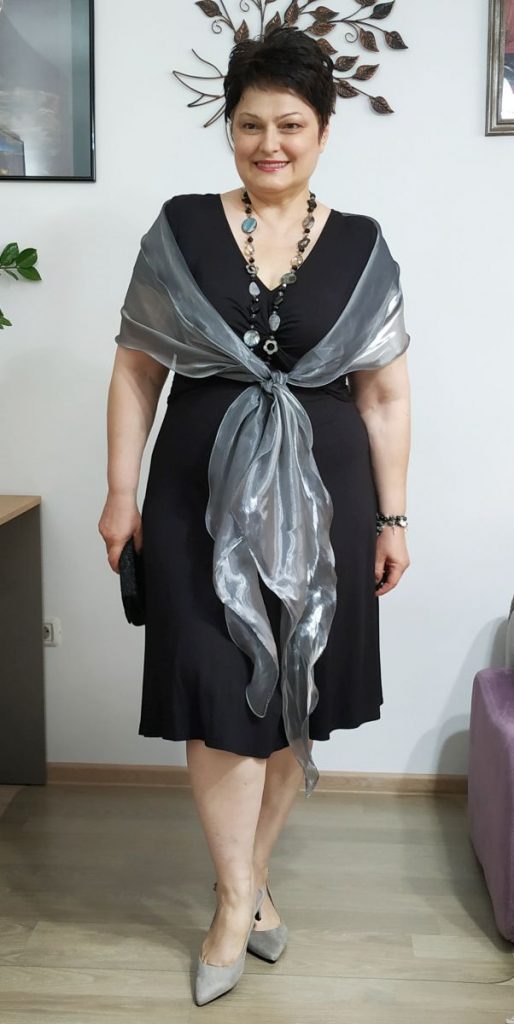 But, besides the color and warmth, the scarves are great for hiding in style everything you want to hide. Like the tummy. Or the flabby arms. Or a wrinkly neck.
I wear cross-body bags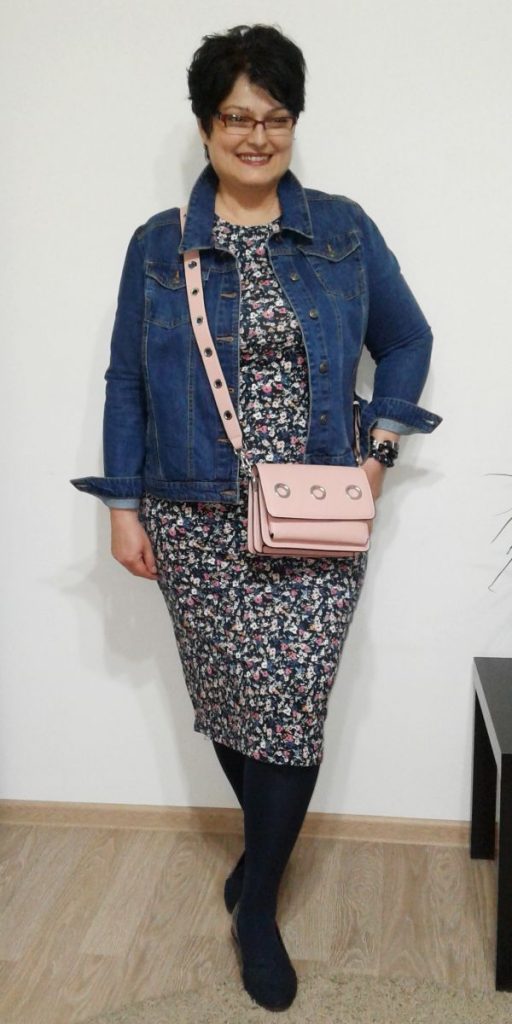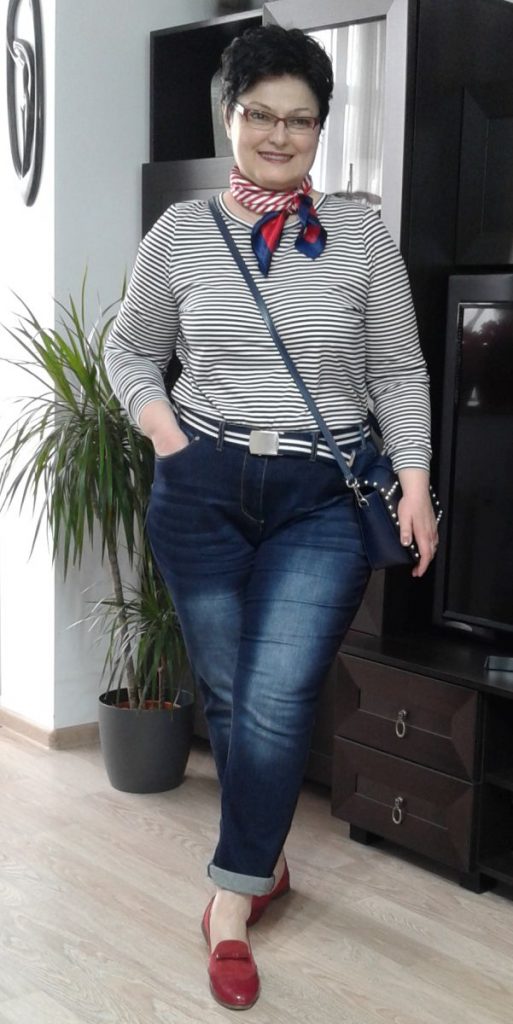 This might be a bit silly but when I'm out for a walk or a movie or when I go somewhere I don't have to take off my bag, I wear cross-body bags. Not only they are very handy and give me a youthful look, they also hide the tummy. I just have to wear the bag a little sideways, so the look will be diverted to the bag, instead of my tummy.
Finding the right tops
This one seems a little obvious. If you want to hide the tummy, wear large tops, I thought.
Yeah…but not quite!
Since I also have a big hips (beside the tummy) I thought that wearing large tops and large bottoms will hide everything I dislike about my body.
But wearing large tops with large pants or skirts is far from being flattering. On the contrary, it made me look way heavier than I am. And I have many photos to prove that, but I won't show you until we know each other better 🙂
So I came to the conclusion that tailored shirts looks much better on me and really hide my belly. Also, instead of wearing oversized tees over the pants, I now prefer, to tuck in the shirts, just in the front, to expose the belt.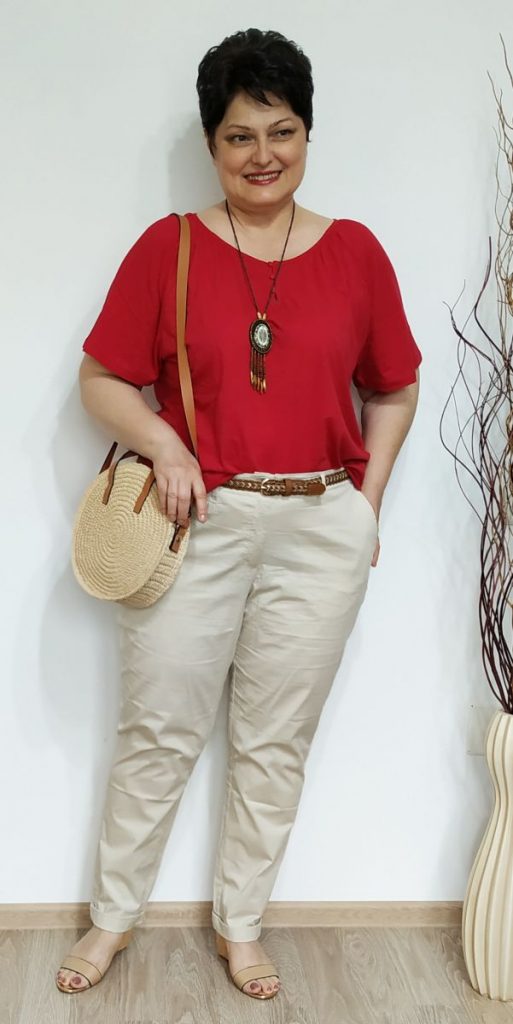 I still wear large, flowing blouses in the summer, but I always match them with tapered pants, skinny jeans or leggings. There must be a contrast, I've learned.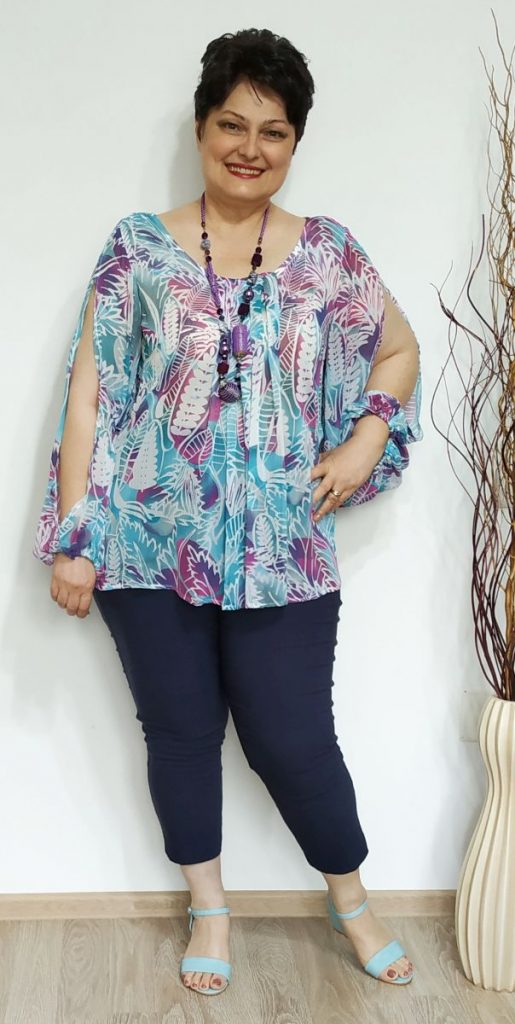 I've also learned that hiding doesn't necessarily mean covering. As I said, you can hide something in plain sight, just by diverting the attention to a more flattering area of your body.
I hope my ideas will help you to hide your tummy and look wonderful. If so, give it a like & share 🙂